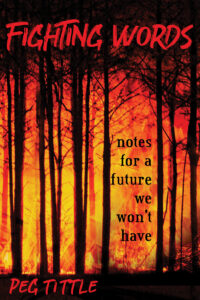 What could've been.  What should've been.
Fact-driven speculative fiction.
Contents:  Damages, Home for Unwed Fathers, Fighting Words, Comedown, What Sane Man, Sweet Sixteen,  Ballsy, Justified, It's a Boy, Men Need Sex, How We Survived, The Knitting Group, The Mars Colonies, A PostTrans PostPandemic World, Unless, Alleviation, The Women's Party, My Last Year.
Magenta 2022
If you'd like an ebook version, it's available in Kindle, Kobo, NookBook, and iBook, but you can download it as an epub or pdf right here! For free. (And here's why.)
(If you'd like the paperback version, best to purchase online–such as at amazon, barnesandnoble, bookdepository, bookshop, etc.–where you can get a deal on the shipping.)
(And if anyone feels inclined to write a review or some sort of reader response that I can post here, do send it to me!)  (And thanks!)
*
"Just reading it ['What Sane Man'] was satisfying." Anonymous, ovarit.com
"This ['Men Need Sex'] is terrific!" An ovarite from ovarit.com
"OMG, I love it ['Ballsy']!" Amareldys, ovarit.com